Walk in the Protestant Montauban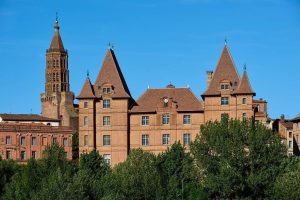 The conditions of foundation of the city, in 1144, by Alphonse Jourdain, Count of Toulouse, the rights granted by a particularly liberal charter for the time, the fact of being administered by elected Consuls seem to have predisposed the inhabitants to an independence of spirit which makes them welcome the Cathar and Valdeist doctrines, despite a temporary occupation of Simon de Montfort.
On the other hand, the economic and commercial activity of the city, which puts it in contact with England, Italy, Spain, the great fairs of Champagne allows to know the new ideas, and to open up to them.
Thus, from 1537, Michel de Affinibus, Jean de la Rogeraye, Jean Calvin read to their students the epistles of Saint Paul and were suspected "vehemently" of heresy.
A letter from King Henry II of November 18, 1551 asked Bishop Jean de Lettes to make an investigation "in order to purge and cleanse the diocese of errors, scandals, false and reprobate doctrines which contaminate and infect the flock of Jesus Christ" .
According to the vicar general, François Poinsson, who leads the investigation, the Calvinists stir everywhere.